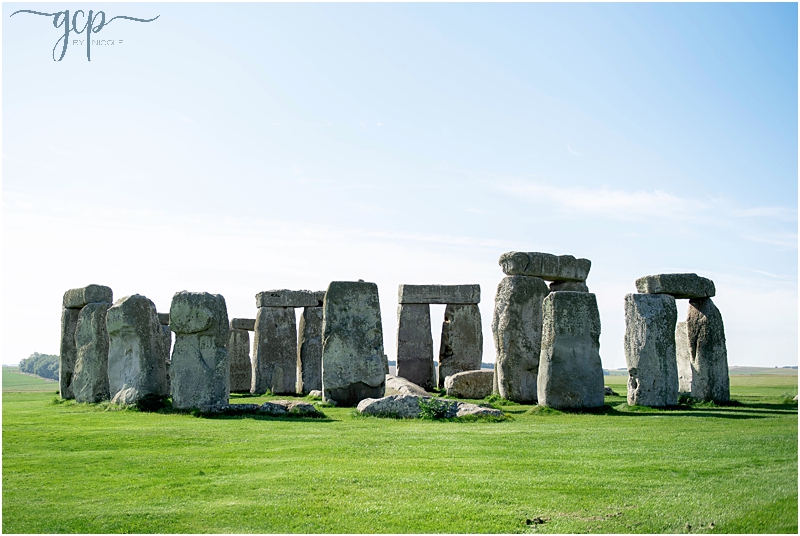 European Adventure 2023 | GCP by Nicole
September 29, 2023
We started our trip in Paris
Our first day brought us to Jim Morrison's grave in a very old and slightly creepy grave yard. Next up was the Louvre. Thankfully we had a private guide for this so we were able to skip ahead of the line and she brought us to all the main attractions we wanted to see, including the Mona Lisa. Afterwards we went to the Arc de Triomphe.
Day 2 was an attempt to go to the Catacombs, but unfortunately we didn't realize we'd need tickets in advance and they were sold out by the time we got there by 9:00. So we decided to head over to Notre Dame and then the Eiffel Tower. We walked along the Seine and ended up back at the Arc since it started to rain when we arrived the night before. That evening we had a dinner cruise along the Seine which was supposed to end with a trip up the Eiffel Tower. Of course of all days there ended up being a bomb threat so we weren't able to go up it like originally planned, but we were able to see the twinkle lights turn on.
Day 3 we took an all day private tour to visit Normandy. We stopped at:
Memorial de Caen
Arromanches-les-Bains/Gold Beach
Arromanches 360 Circular Cinema
Normandy American Cemetery
Omaha Beach
Pointe Du Hoc Memorial
It was very surreal visiting all of the places especially when you realize it wasn't that long ago that war happened.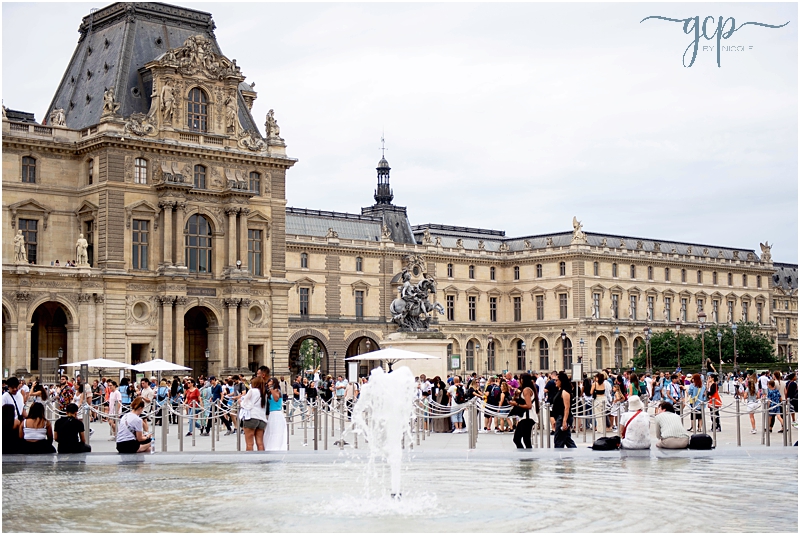 Next up London!

We took the Chunnel from Paris to London and hit the ground running. Our hotel was conveniently close to the Tower of London. I didn't think we'd ever get Caleigh out of there! She was obsessed with all of it. After spending hours in there going through all the towers, castles and seeing the Queens' jewels we got fish and chips and freshly made crepes!

After we filled our bellies then it was off to see Big Ben, Westminster Hall, Westminster Abbey, Victoria Tower, St. James Park, Buckingham Palace, and finally Piccadilly Circus to find Mary Poppins! Gavin was super excited to find a Harry Potter store in the Piccadilly area too.

I'm not sure there was much more we could've fit into our first day!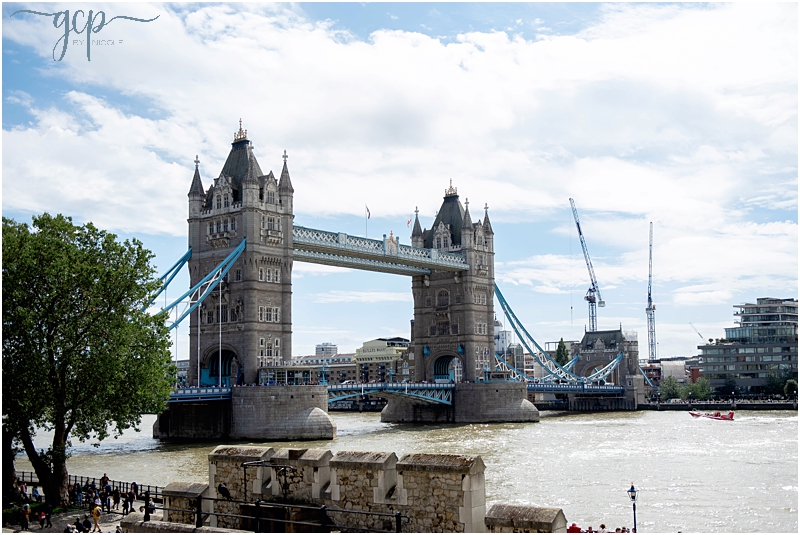 Our second day in London we took a day trip to Liverpool and hopped on a Beatles Bus tour. We then – of course – had to end the day recreating "Abbey Rd." I don't think any of us were prepared for not only how busy that road actually is, but also the amount of people also trying to make their own album cover. It felt like we were playing frogger, but I think we nailed it as best we could.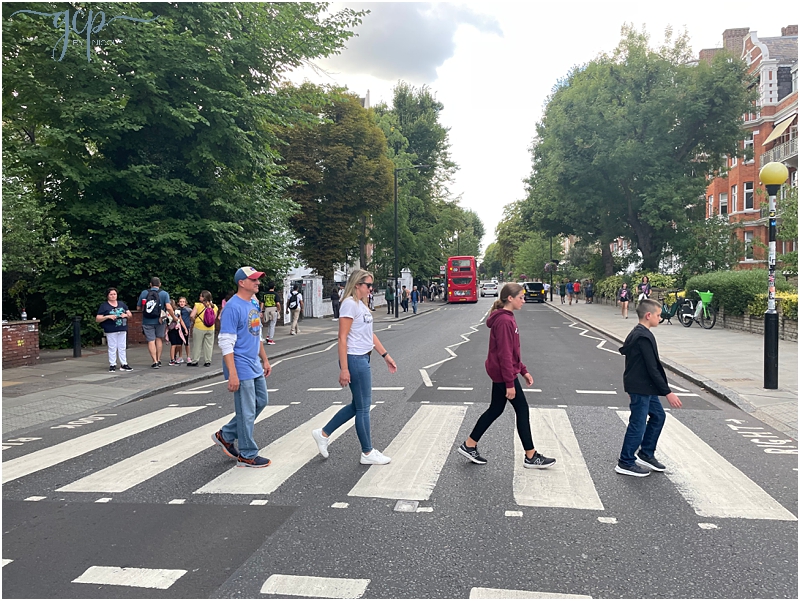 Our third day in London took us on another semi private tour that included Stonehenge, Bath, Cotswolds and Avebury. I would 100% recommend this tour to anyone visiting London.

We were lucky enough to be the first group to Stonehenge which made for amazing pictures without 100s of people around us. It was truly indescribable seeing it in person.

We then went to Bath and visited the 2,000 year old Aqua Sulis/Roman Baths. People from all over traveled there for the healing properties of the natural hot springs. The town itself was adorable and I could definitely see us going back there to stay a night. It is also home to the dressmaker Miss Delacroix from Bridgerton. It is actually a cute bakery when not used for filming.

From Bath we went on to Cotswolds/LaCock which Gavin was most excited for as some scenes from Harry Potter were filmed there. Many other movies have been filmed there as well.

The day then ended with a quick stop in Avebury which has it's own version of Stonehenge.

After we arrived back in London that evening we decided to explore a little bit more of London for our last night. We walked along the Thames River down to the Globe Theater, past the London Bridge and had dinner. We then walked over The Tower Bridge at night back to our hotel.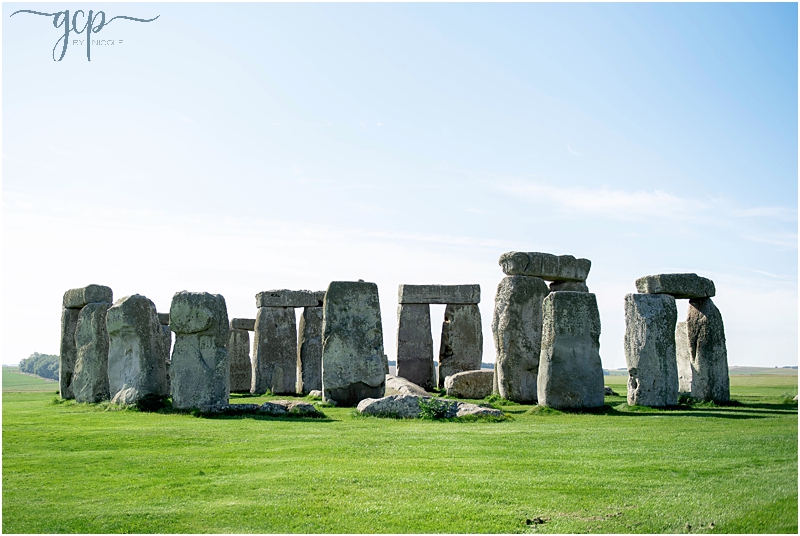 We then took another train from London to my motherland of Scotland! The Glasgow train station even had a huge sign when you got off that said "Champagne Central" so I knew it was meant to be. My Great Great Grandma is actually from Melrose, Scotland. She left for Canada when she was 18 years old. I was lucky enough to have met her when I was little as she lived to be over 100 just like her daughter, my Great Grandma Nornholm. I was really hoping to see the town she was born in, but it just didn't work out with our timing. It was much further South than we thought.

Glasgow was such a small town compared to the other cities we had already visited. After we arrived there we walked down to Glasgow Cathedral and their Necropolis. We then explored the St George area.
Our second day we explored Loch Ness, Glencoe and the Highlands. The tour took us along Loch Lomond which is Scotland's largest loch. Through Breadalbane towards Rannoch Moor. Then onto Glencoe, Fort William to Loch Ness. We then went through Cairngorms National Park and finally our tour guide was kind enough to take us to see some Highland Cows before dropping us back off. It was as they say, "a wee bit blowey" up in the mountains. But, also some of the most beautiful scenery we've ever seen. We couldn't get enough of the landscape.
I would've loved to have stayed a night in the Highlands just to be able to hike and spend more time throughout there.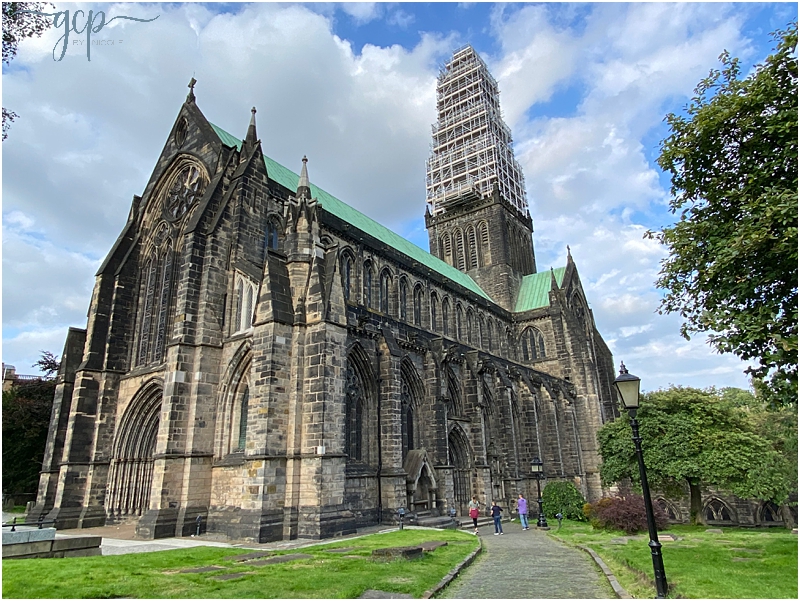 We spent our last full day in Scotland by taking the train to Edinburgh for the day. Edinburgh was the complete opposite of Glasgow. A very busy city that was even busier due to a festival that was going on while we were there. The architecture was gorgeous and they had some amazing street performers!
It was a Mommy and Gavin day as we took a Harry Potter tour around the city. It was very cool seeing where J.K. Rowling came up with the names of her characters, the hotel she wrote one of the books in and best of all seeing the street Diagon Ally was based off of.
Mike and Caleigh decided to take a tour of Edinburgh Castle since she is our little history buff kid.
Unfortunately, I didn't bring my "real" camera to Edinburgh because that night we were lucky enough to be in town for the Military Tattoo that performed inside Edinburgh Castle! It was such a cool experience to see all of these bands perform.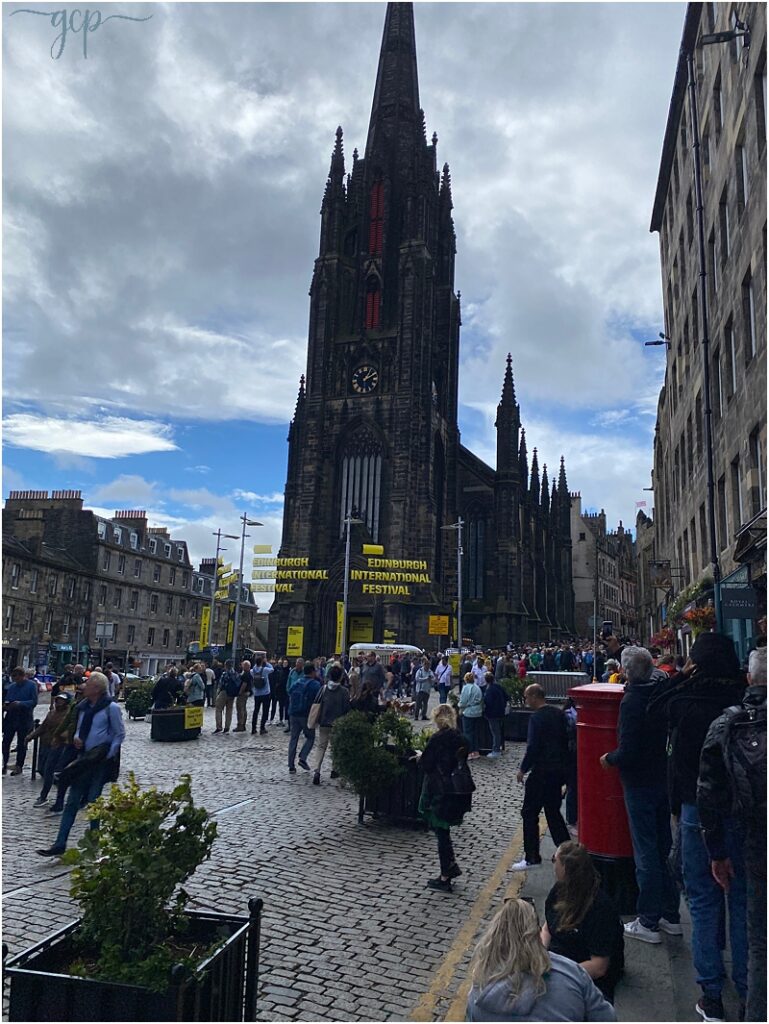 After flying from Glasgow to Ireland in a slightly sketchy plane we rented our car and were off to Donegal.
I only had two requests on this entire trip. The first being that we would once again stay at Lough Eske Castle . We loved it so much the first time we stayed and it did not disappoint this time around either. Again the service and stay there was above and beyond our expectations. The room was just as nice as we remember and literally the most comfortable beds we slept in our entire trip – bonus is everyone had their own since our room was 1000 sq. ft.!
We decided to rest and enjoy the castle our first night and ate at the delicious restaurant and made great friends with the maître d, Johnny. He was hilarious and told the best stories and quickly became my best friend after basically serving me 2 free bottles of champagne.
After dinner we were able to meet up with our Irish friend. Everyone loved catching up with her and I loved finally being able to meet her and her beautiful family.
The next day was when my second request came in. I wanted to once again go riding on the beach at Donegal equestrian center, but this time with my daughter. It was such an amazing experience and I loved that I was able to share it with her this time. The scenery was gorgeous and we loved every second of our ride!
After our ride we took a trip up to Slieve League to see the cliffs again. The last time we were there – 10 years ago – we were able to drive almost to the top. Since then the road had decomposed enough that it was now a 2 mile hike up. We went for it and made friends with some sheep, took in the landscape and headed up to the clouds. But, Mother Nature decided to get extra "blowy" and started raining not even half way up. After realizing we were up in the clouds at that point because they were so low and we wouldn't have very good sight of the cliffs even if we finished the hike we took the loss and headed back down. There's always next time!
So, we were able to head over to Letterkenny and meet up with our friend one last time so it was still a win and a great way to end the day.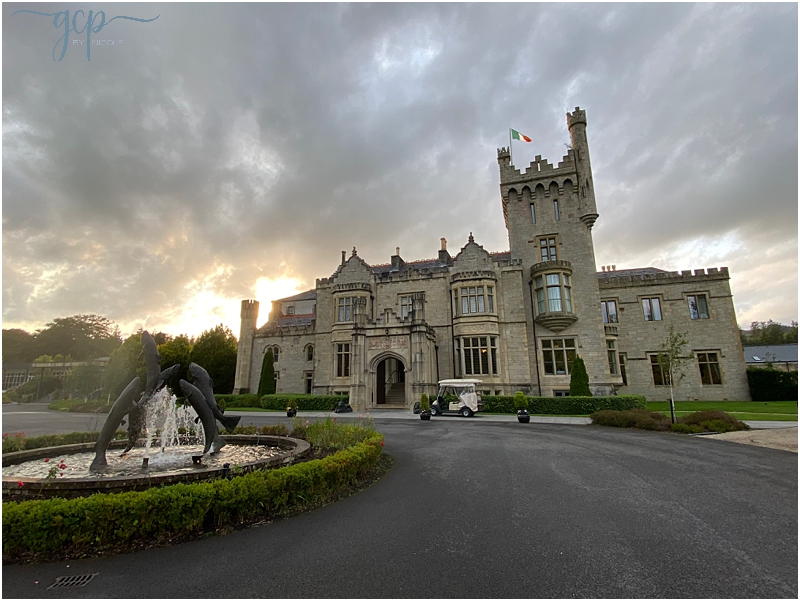 We left Donegal and headed to Northern Ireland to meet up with more friends for a few days. Not only was it great having our own personal tour guides, but we had the best time with them and all of kids instantly bonded.
We started in Portrush which is a cute little beach town. While we were comfortable in t-shirts and pants we couldn't get over all of the people actually swimming in the ocean! None of us were brave enough to dip a toe in. lol After a quick bite to eat we were on our way to Giants Causeway to meet up with more friends. The kids had a blast running around and exploring. Our friend later told our kids the legend of the Giant, Finn McCool, and how he created all of the hexagonal rock formations.
After we were done exploring the rocks along the water we took a "wee walk" up the other side to see the "organ" up close and up what seemed like 500 stairs that the adults barely survived. We had a nice sit so everyone to catch up and I was super excited to get my puppy cuddles in!
Our friend then took us on a gorgeous scenic route along the Antrim coast line. One of our stops was in Ballintoy where they filmed some of Game of Thrones and she also took us to a secret beach. We stopped for fish and chips in Ballycastle – which were unanimously voted as being the best of the trip. Then it was on to Hillsborough to stay at her B & B.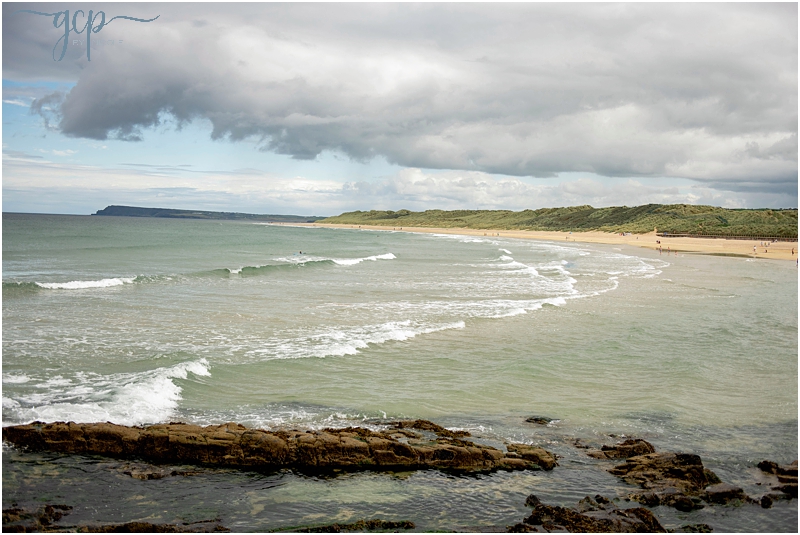 Our next day we headed to Belfast with everyone.
This was the day Caleigh had been waiting for because we were going to the Titanic Museum. I have to say that this museum blew the Gatlinburg one away. It was done so well and it really focused on the building of the ship – for obvious reasons. I was shocked to learn that it didn't open until 2014 though!
After the museum we crossed the river and walked all through the town.
We truly didn't want the day to end because we were having so much fun with everyone. It was the best watching all of our kids turn into instant best friends. There were definitely some tears shed when we said good bye to our friends at the end of the day. But, I love that the kids are still in contact with each other.
We headed back to our friends B & B where she made us one of the best meals we had on our trip. We couldn't thank her enough for her hospitality. She certainly made sure we were well fed and saw ALL the things.
The next morning we went into the town of Hillsborough to visit the fortress, the Hillsborough castle and church. We then had some delicious scones and coffee and it was time to drop our car back off and get on a bus to Dublin to finish off the trip!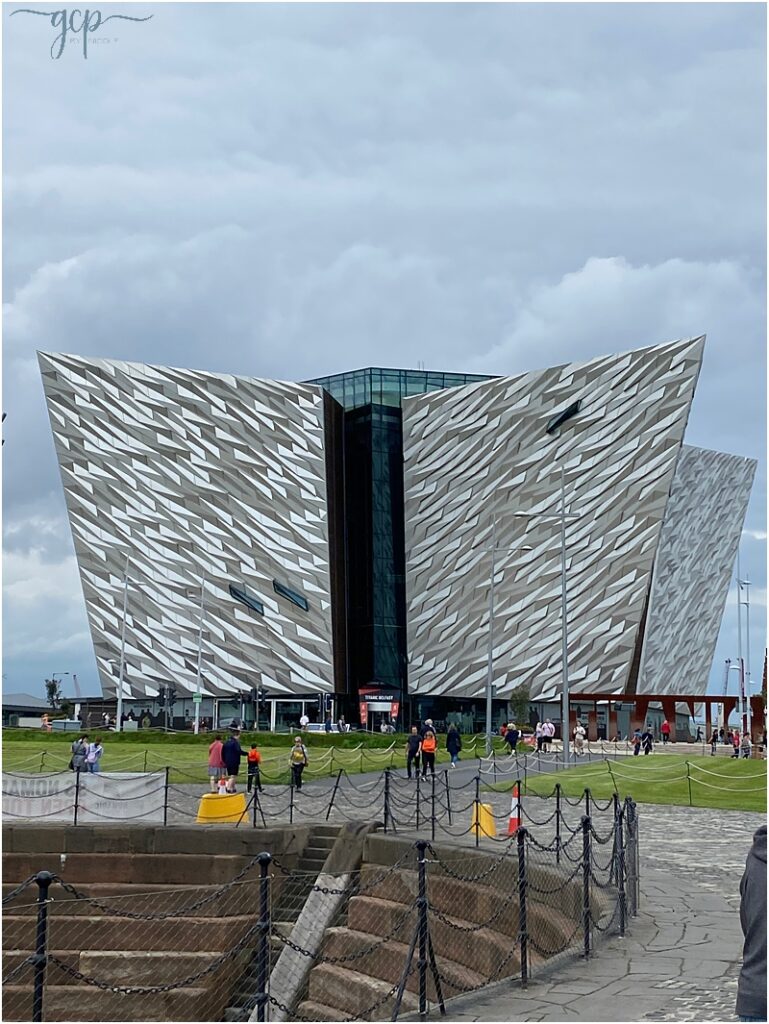 The last part of our trip was Dublin for the Notre Dame game!
Our first full day there we visited Trinity College, Dublin Castle, Christ Church Cathedral, St. Patrick's Cathedral, Guinness and the Dublin Zoo. Unfortunately, this time they were requiring tickets to be purchased in advance to go in a lot of these places so we kind of did our own walking tour using the buses.
We ended the evening by meeting up with family that was also in for the game at a pub off of Grafton Street. It was fun chatting with all of the locals in there that kept asking if we were there for "the match"
The morning of the game we did some last minute shopping and then headed to where the parade was going to be along the newly named "Norte Dame St."
We ended up lucking out and we were in the perfect spot because as the band passed us we were able to jump in behind them and literally ended up in the parade. Definitely a core memory for all of us!
We then ended up front and center where the band performed after the parade. Gavin was in awe of it all and loved the mascot!
Afterwards we grabbed some lunch and watched some of the street performers on the way back to the hotel to rest up for the game which was conveniently only 2 blocks from Aviva Stadium.
As most of you know it was a pretty epic game with ND almost completely shutting out Navy with a score of 42-3! We had some pretty epic seats too.
This was definitely an unforgettable trip!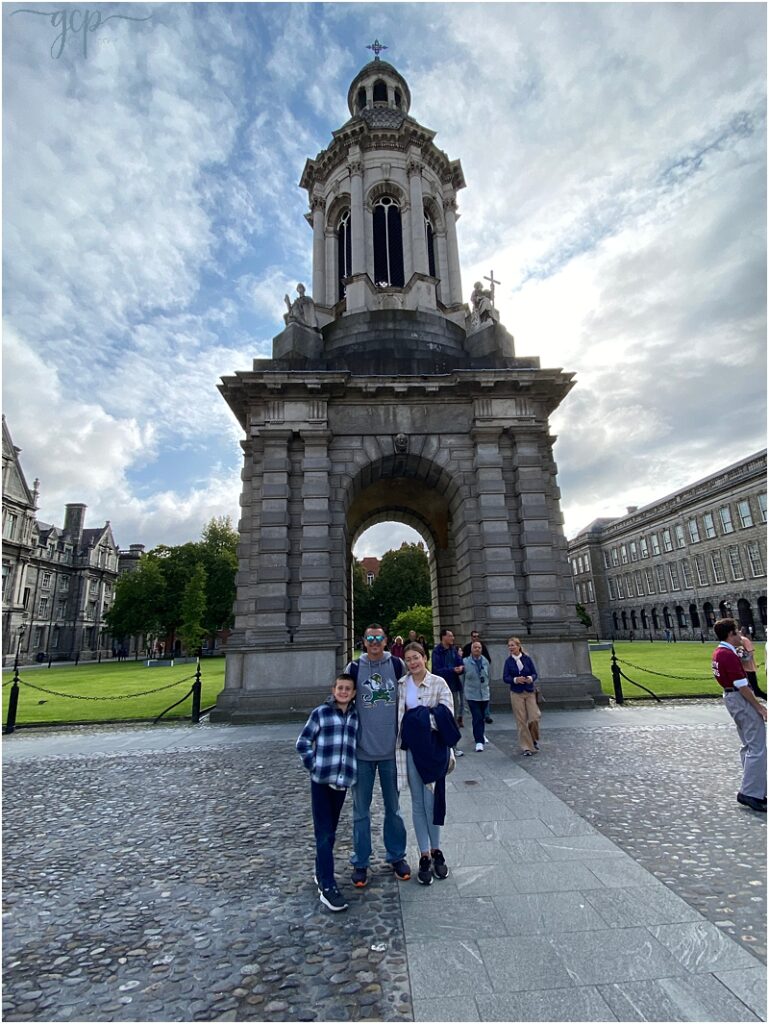 You May Also Like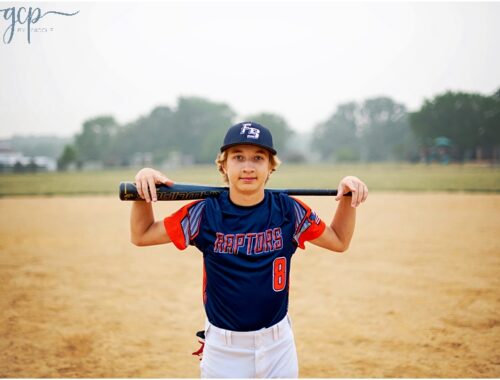 July 17, 2023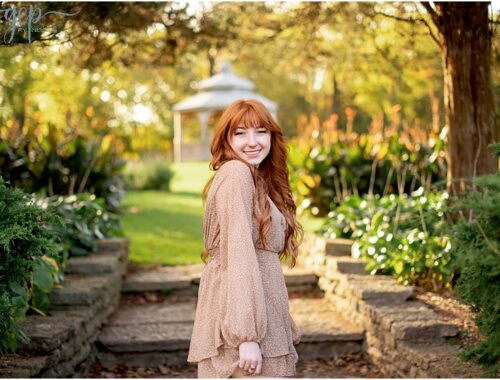 March 19, 2023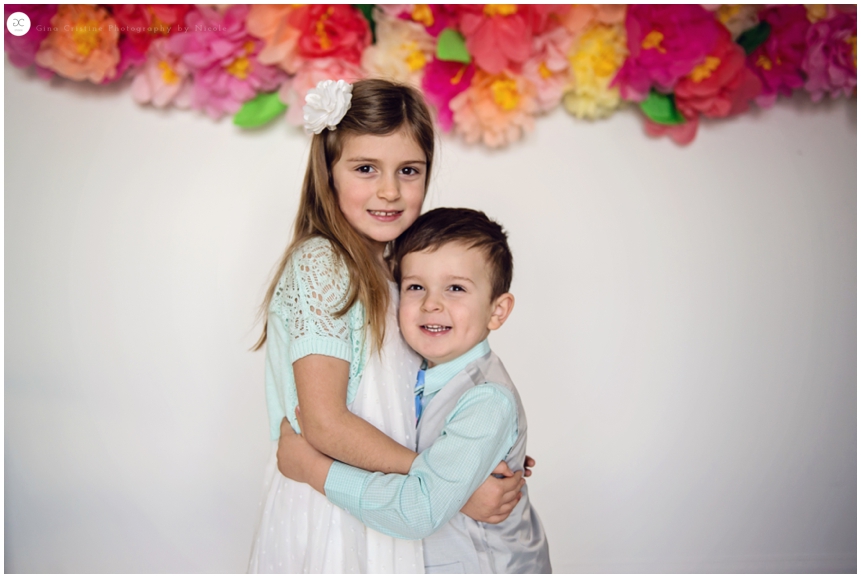 April 16, 2017